Forum (Please note the link in the navigation bar is to the old one.)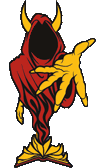 UNDER CONSTRUCTION!!!
Welcome!
This site is the home page for my forum for juggalo's, maggots and outcasts of mainstream society.
wanna play a game? Find the hidden text on this page HINT: It's never far from where your mouse is pointing. If you find it, post in the guest book what it says and leave your email address.
alright ninjaz, this is the home page where you can find out about me, my homies, and get links to other sites i visit. i'll also include news, bios and pictures of my favorite artists on other pages of this site.